Order & Payments
Are discounts available on PCTMart.com?
Of course, we do offer discounts! Have a look at our product list, we offer discounts on selected items and for special occasions from time to time.
Is there a minimum order?
Nope, No minimum orders. 
How can I pay for my goods?
Currently, we accept Cashapp payments (supported countries only such as USA/UK etc.)  and various cryptocurrencies, such as Bitcoin (BTC) Ethereum (ETH) Litecoin (LTC) Monero, and others. Nonetheless, we are working on adding new payment options soon. 
My Bitcoin (BTC) or other crypto payment is still pending although I have paid hours ago. Can you help?
During checkout, the exact amount of Bitcoin (BTC) to be sent is shown; make sure you do not send a different amount, nor send a USD total for your order. For example:
Total – 0.01456 BTC ($100)
Please send 0.01456 BTC (type this specific amount in your wallet and send. do not type any amount in $). Additionally, you will have to wait for a set number of confirmations. If any of these 2 conditions aren't met, your transaction might not be detected and your order status will eventually be shown as canceled. You can track the status of your payment at www. Blockchain.info just input the address you are given to pay to and allow for the confirmation number to increase.
For specific questions and if you require any special assistance regarding payments with cryptocurrency just email us at [email protected] and we will gladly assist.
Note: We will never ask for your private keys and you should never provide them to anybody!
How many tablets/vials etc. are included in my order?
We always try to keep our product images up to date and as informative as possible. In some cases, it is not perfect, so that the number of tablets/vials/ and others included in each order is written individually in the specific description. Thus we strongly encourage you to always confirm the relevant product's description before completing your order to avoid any misunderstanding. A Standard product description is provided below: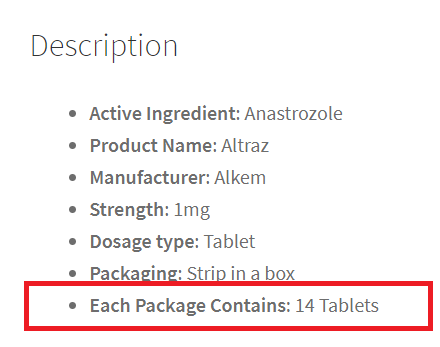 My package is missing or/not the one I ordered or/and the contents are damaged, what do I do?
We use stealth shipping when possible. Our products will always be sent without the original package in a neutral cardboard box. This is for everyone's sake. If on the other hand, your package contains any missing /wrong, or damaged items, please provide us with photos of the incident as soon as possible and as many possible details as possible. The inside contents of the package sealing must not be opened or tampered with and nothing should be used. To make things easy for all of us and to ask for your pardon, you will keep whatever you received, and we will reship what is missing immediately. Whatever the issue is, please contact us up to 7 days upon receiving your order. After 7 days we will not reship/replace any missing/damaged items.
We are monitoring stock levels on a daily basis, in the very unlikely scenario that your specific item is missing; we will do our best to compensate you. Either by offering a refund or an equivalent amount of store credit (coupons).
Some items are missing from my order. Now what?
We are sorry! This is our bad and we take full responsibility for it! We will resend the missing produce on our account, as long as we are contacted within 7 days of the parcel being delivered to you and given sufficient evidence from you.
I am looking for items you don't have listed, can you help?
With pleasure! If we are missing your desired products, first of all, we are sorry to hear that. Our actual updated list includes more items than listed.  We will do our best to assist you. 
Do you offer bulk/wholesale pricing?
Indeed. Feel free to contact us. We will make our best to make it work out.
How safe is it for me to share my data with you?
Your data is stored abroad, outside of US and EU jurisdiction, we use end-to-end encryption, meaning any data sent to and from our website is encrypted. Additionally, all checkout data is deleted after your order is complete. Your data can also be deleted at your request at any time by contacting us at [email protected]. Please check our Privacy Policy for more info.
Delivery & Returns
Which countries do you ship/don't ship to?
We ship worldwide, except to India. 
Do you ship to P.O. Box addresses and APO/BPO?
Yes. We can ship to P.O. addresses and army bases.
What is your Shipping success rate or how many packages are seized?
Our International orders are being delivered with an average of 98% success rate internationally. In any case, we offer free reshipping so this should not be a concern for you.
Reshipping guarantee policy
Please note, as this is very important. We can reship packages only if they were placed according to our reshipping guarantee policy.
This means that we are able to reship once, free of charge only orders which contain no more than 360grams. If you choose to order more packages, you are advised to split the shipments, or else, we will ship as is, but without the reshipping guarantee in the unlikely case of a seizure.
Andractim Gel will be reshipped at a price of 7 euro. 
How do you ship and how much does it cost?
We use Dhl e-commerce from our International warehouse at a price of flat $25.
The East European warehouse has a free shipping policy.
How fast is International delivery?
International orders are shipped within 3-4 days, Monday-Friday (keep in mind some Friday orders will be sent the following Monday due to time difference). International order delivery time is ca. 20 days, depending upon location.
*Please note due to COVID-19 limited flight availability times might slightly vary
Do you provide tracking?
Yes, all orders include tracking numbers regardless of where they are ordered from please allow 24-72 hours for the tracking to be updated.
*Please note due to COVID-19 limited flight availability times might slightly vary
How long do I need to wait for my tracking to be updated?
It can take up to 72 hours to update, depending on the day the purchase was committed. Sometimes and/or in certain geographic locations, the tracking will not update past the initial scan until it has reached your country's customs/sorting facilities. This is solely country-specific and we have no control over that.
My package has been seized by customs, what's next?
In the very unlikely scenario of a seizure, if your order was placed according to our reshipping policy guarantee, we will reship all orders your order on our behalf, provided sufficient documented proof. On the other hand, if your order is stuck in customs/lost in transit and it has been more than 25 business days since the last update we will reship on our expanse, again only if placed according to our reshipping guarantee policy. In some cases, we will compensate you by offering store credit instead. For Andractim gel, we will reship at a fee of 7 euros.